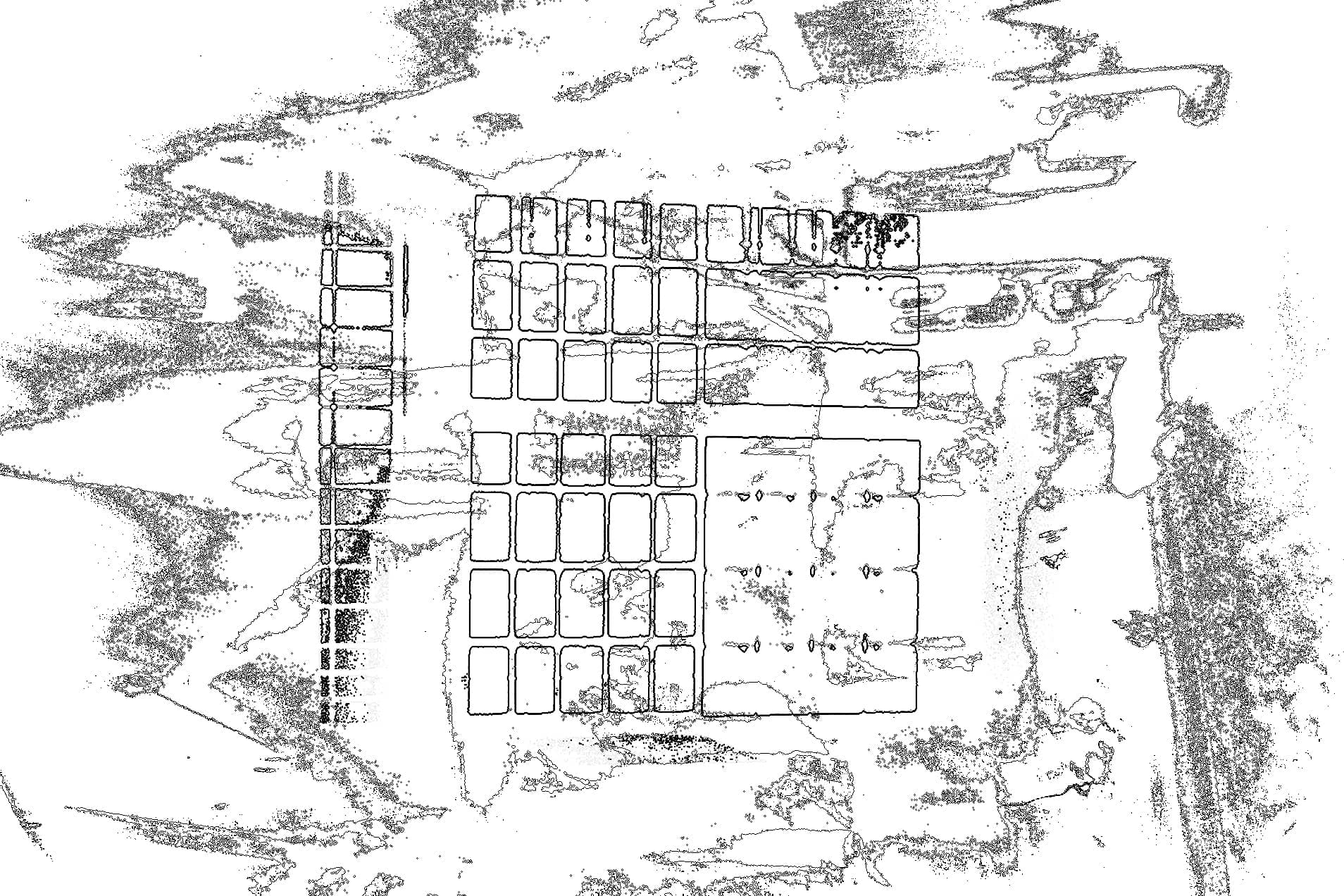 ENG units of memory are analog photographs – superimposed and edited – of trips between 2018-2020, transformed through certain electrical impulses that appear on our screens in what we commonly call binary code. A direct extraction from a fixed memory, such as analog photography, to a multiple memory such as a bitmap; where each pixel is assigned small memory units, expressed in binary terms. Thus, in these digital images they propose to reaffirm this multiplicity of memories, superimposing memories of certain contexts and saving them together. Have we not already replaced – and especially these days – the bitmap with our sensible world? Faced with the restriction to our sensible world, our daily life has become virtualized and with it our spaces.
CAT units of memory són fotografies analògiques -superposades i editades- de viatges entre 2018-2020, transformades a través de certs impulsos elèctrics que apareixen a les nostres pantalles en el que comunament anomenem codi binari. Una extracció directa d'una memòria fixa, com una fotografia analògica, a una memòria múltiple, com un mapa de bits; on a cada píxel se li assignen petites unitats de memòria, expressades en termes binaris. Així, en aquestes imatges digitals es proposa reafirmar aquesta multiplicitat de records, superposant records de determinats contextos i guardant-los junts. No hem reemplaçat ja, i especialment en aquests dies, el mapa de bits amb el nostre món sensible? Davant la restricció al nostre món sensible, la nostra vida diària s'ha virtualitzat i amb ella els nostres espais.
CAST units of memory son fotografías analógicas -superpuestas y editadas- de viajes entre 2018-2020, transformadas a través de ciertos impulsos eléctricos que aparecen en nuestras pantallas en lo que comúnmente llamamos código binario. Una extracción directa de una memoria fija, como una fotografía analógica, a una memoria múltiple, como un mapa de bits; donde a cada píxel se le asignan pequeñas unidades de memoria, expresadas en términos binarios. Así, en estas imágenes digitales se propone reafirmar esta multiplicidad de recuerdos, superponiendo recuerdos de determinados contextos y guardándolos juntos. ¿No hemos reemplazado ya, y especialmente en estos días, el mapa de bits con nuestro mundo sensible? Ante la restricción a nuestro mundo sensible, nuestra vida diaria se ha virtualizado y con ella nuestros espacios.